Digital Menu Boards
As the leading provider of visual solutions for restaurants across the globe, Mood offers the latest in digital menu board technology to help our clients drive sales and engage their customers like never before. With award-winning graphics and captivating CGI images, Mood Digital Menu Boards help restaurants like Louisiana Famous Fried Chicken bring their brand to life – energizing the feel of any dining room to generate lasting customer loyalty.
FEATURES
+ FOUR SCREEN DYNAMIC DIGITAL MENU
+ LOCAL MANAGER INPUT
+ CUSTOMIZABLE PROMO AREA
+ CUSTOM CONTENT CREATION
COMPANY BACKGROUND
Born out of many trips to New Orleans and experimentation in the family garage, Louisiana Famous Fried Chicken is a regional quick service restaurant with locations in Texas, Arizona, California and Michigan. The first store opened in August of 1976 in Los Angeles and the response by the public was overwhelming.
DIGITAL MENU BOARDS AT LA FAMOUS FRIED CHICKEN
LA Famous Fried Chicken currently uses four dynamic screens with multi-zone layouts to display menu content and promote seasonal and special items. With an affordable and accessible platform, Mood Digital Menu Boards make it easy for local managers at LA Famous Fried Chicken restaurants to apply quick menu changes and comply with new menu labeling laws taking effect on December 1, 2016. Designed for maximum reliability, Mood Digital Menu Boards stay up and running in the event of a system issue, and are backed by customer service that businesses can trust.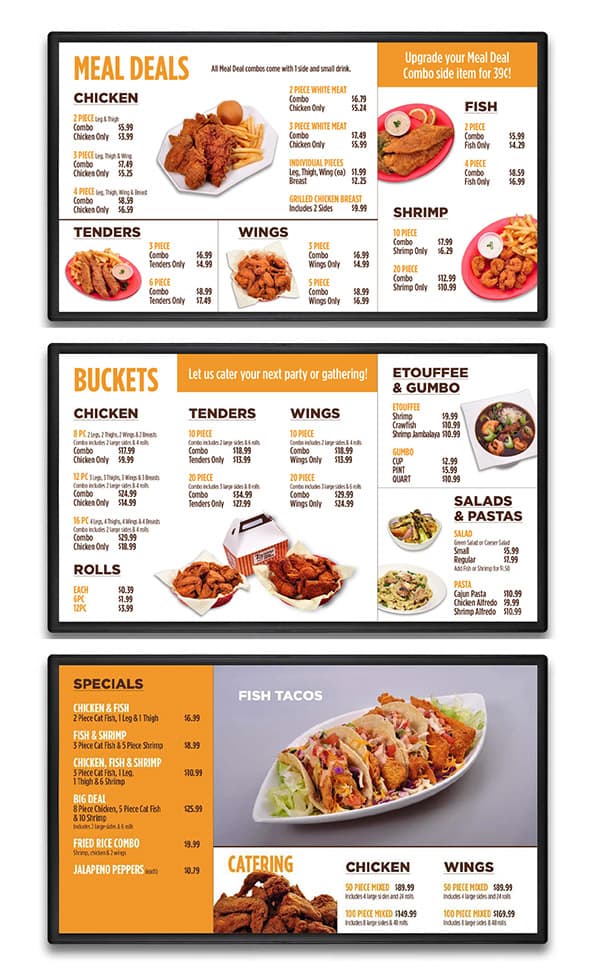 Case Studies