DIGITAL MENU BOARDS
As the leading provider of visual solutions for restaurants across the globe, Mood offers the latest in digital menu board technology to help our clients drive sales and engage their customers like never before. With award-winning graphics and captivating CGI images, Mood Digital Menu Boards help local restaurants like Stash's Pizza bring their brand to life – energizing the feel of any dining room to create a memorable dining experience and generate lasting customer loyalty.
FEATURES
+ SIX SCREEN STATIC DIGITAL MENU
+ MULTIPLE MENU DESIGNS
+ CUSTOM CONTENT CREATION
COMPANY BACKGROUND
Stash's Pizza is a multi-location pizzeria serving the Boston, MA area, famous for handcrafted New York style pizza made with fresh toppings. They take pride in using only the finest ingredients, such as homemade sauces and fine cheeses to appeal to regional tastes, while striving to provide a consistent and unforgettable customer experience.
DIGITAL MENU BOARDS AT STASH'S PIZZA
Each Stash's location uses a six-screen static digital menu board with multi-zone layouts to display menu content and promote special items. They also employ customizable templates within those screens to revitalize the feel of their dining room while expressing their distinct brand image.
With an affordable and accessible platform, Mood Digital Menu Boards make it easy for local managers at each Stash's Pizza location to apply quick menu changes and comply with new menu labeling laws taking effect on December 1, 2016. Designed for maximum reliability, Mood Digital Menu Boards stay up and running in the event of a system issue, and are backed by customer service that restaurants can trust.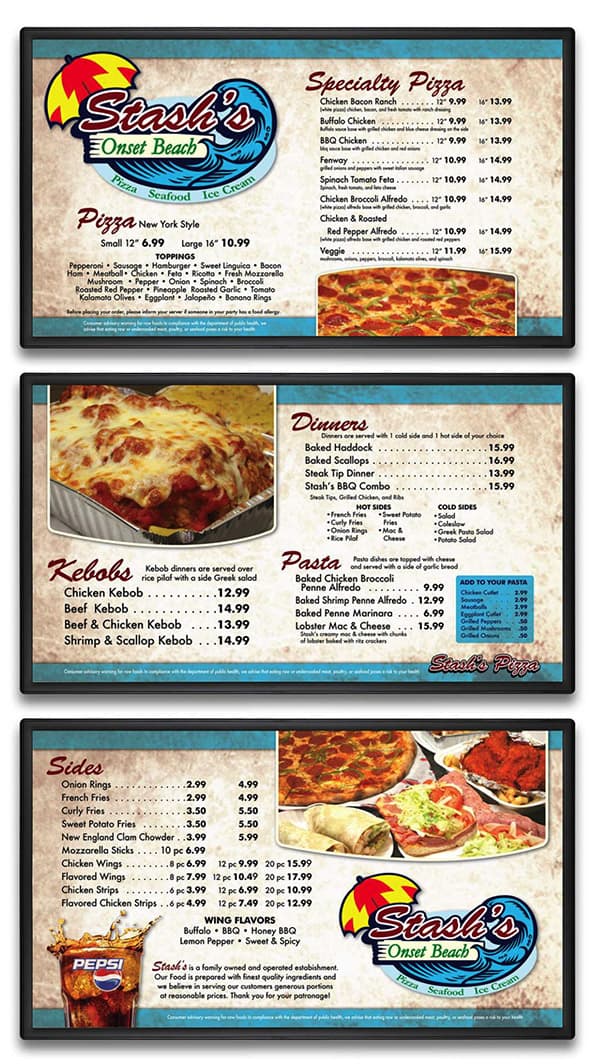 Case Studies